Blogs.
Read about how we are doing, new products, new product features and much more!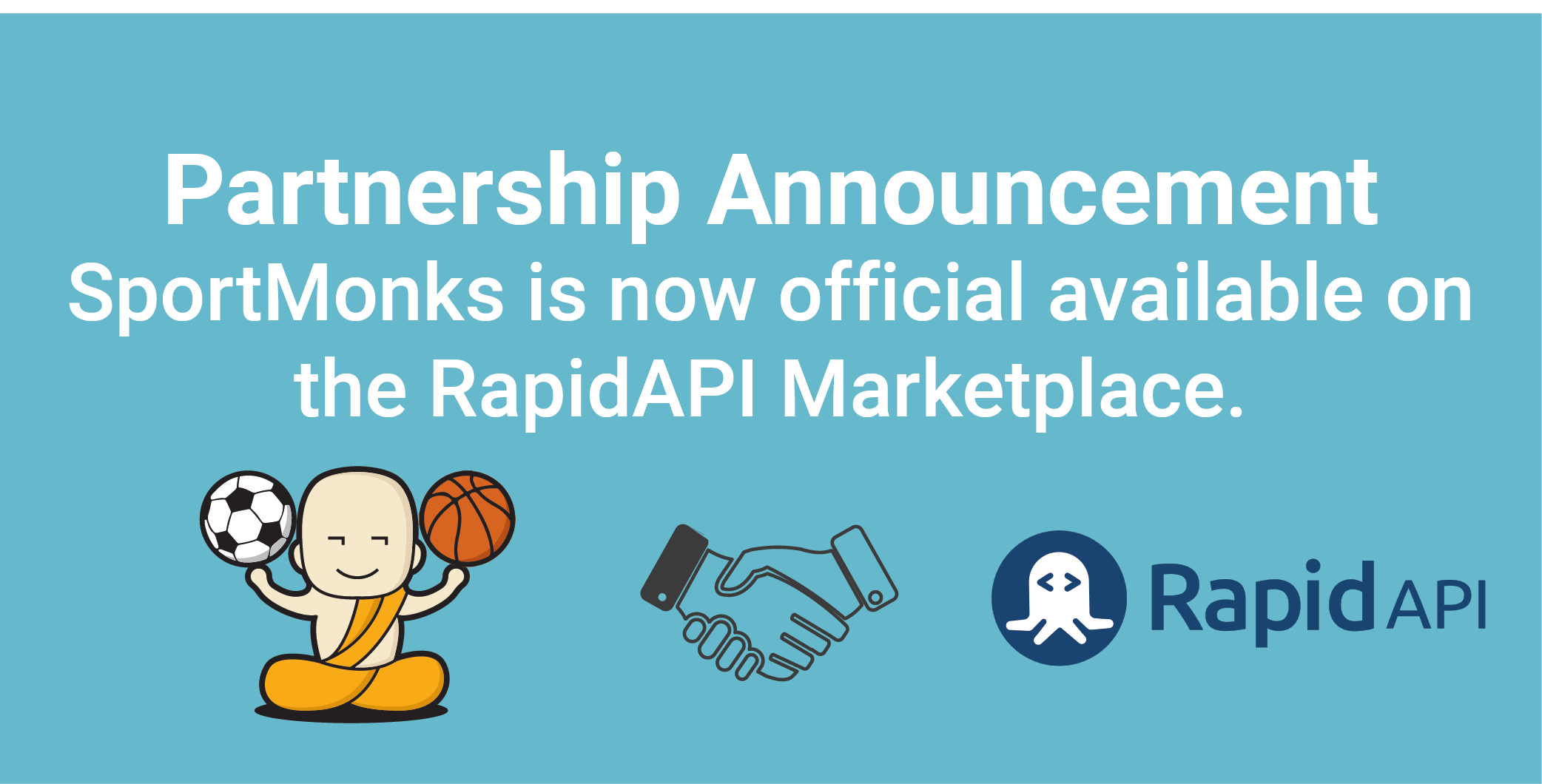 SportMonks and RapidAPI join hands
Partnership Announcement: SportMonks and RapidAPI join hands to make it easy to use the best Football API on the market.
The role of data becomes more important by the day. Many professional football clubs use data to buy players, adjust tactics and analyze the next opponent. But not only professional clubs want to use data. Many fans are interested in the livescores, odds and statistics of their favorite team. For companies in the sports industry and betting world, access to the right data is important as well. Thanks to SportMonks' Football Pro API, this is now available for everyone! But you want to have the correct data on the right time, right? We understand that having the wrong data can cause frustration among the fans, but these times are over now. SportMonks introduces the Football Pro API with the fastest and most accurate data: now available on the biggest API marketplace in the world: RapidAPI.
Why is SportMonks on RapidAPI?
RapidAPI is an API Marketplace for developers to find, connect, and manage their API connections. Find the APIs that you need for your project, embed the API into your app, and track usage of all your APIs through a single dashboard. (RapidAPI, 2020) We think this could be really helpful for our customers: to manage all their API's in one place.
Why use SportMonks' Football Pro API?
At SportMonks we work different compared to other data suppliers. We do not use unclear pricing where you pay too much for overage API calls. With our API calls packages you will have enough calls to build a professional Football Application and update your Livescores every second. Last but not least: at SportMonks you get the quality Football Data your customers deserve. You will get value for your money to be able to build a professional Football Data application. Please let us know if you have any questions by Contacting Us.
 Coverage
At SportMonks you will get access to 900+ Leagues. Check them here on our Coverage page.
 Speed
We understand that the speed of data is very important for your application. Therefore, we offer fast livescores and updates to ensure you get the data in time.
 Documentation
Next to our amazing and friendly support, we offer extensive documentation page with an in-page api tester. On these pages you will find every endpoint with an example and possible includes (data enrichments). Please make sure to check them out.
Custom Plan
Do you want to cut the costs and only pay for the Leagues and Data Features you need? Then it's also possible to request a Custom Plan. Please contact our helpful Sales Team with the league's and features you want and they will be happy to help you.
Build amazing products with realtime sports data.
Get started with our 14-day free trial, and experience blazing fast livescores.
Get started